Packaging Design as a Graphic Interface between Traditional Communication and New Technologies
Keywords:
packaging, brand, communication, visualization, usability
Abstract
In recent years, new information and communication technologies have had a significant impact on the design field, also involving, in a relevant way, the design and marketing processes related to product packaging. The multiple roles assumed by packaging, from functional ones to visualization ones aimed at conveying the corporate brand and persuading the buyer, have been enriched with renewed nuances and unprecedented possibilities. The latter have profoundly redefined both the relationships with the product and those with the consumer. This article explores the new ways of communicating packaging and its transition from a simple graphic-formal artefact to an articulated graphic interface. Through the narration of recent experiences that testify its transfig- uration towards advanced forms of communication of products/services, the authors investigate the possibilities offered by new technologies and the founding role of drawing in this specific field of design, in which applications are increasingly characterized by multidisciplinary approaches.
References
Aliperti, D. (2014). Internet of Things? No: Internet of people. (Intervista a Carlo Ratti per EXPO 2015). In Network Digital 360 <https://www.corrierecomunicazioni.it/telco/carlo-ratti-internet-of-things-no-internet-of-people/> (accessed 9 August 2022).
Annicchiarico, S. (2022). La storia della bottiglietta del Campari Soda, creata da Depero nel 1932. In Domusweb febbraio 2022 <https://www.domusweb.it/it/design/2022/02/23/la-bottiglietta-del-campari-soda-di-depero.html> (accessed 9 August 2022).
Bertschi, S., Bresciani, S., Crawford, T., Goebel, R., Kienreich, W., Lindner, M., Sabol, V., and Moere, A. (2011). What is knowledge visualization? Perspectives on an emerging discipline. In Proceedings of the 15th International Conference on Information Visualization. London, 13-15 July 2011, IV, pp. 329–336 2011, Piscataway, NJ: IEEE press.
Bucchetti, V. (a cura di). (2007). Packaging Contro.Verso. Milano: Edizioni Dativo.
Cardone, V. (2016). Immaginare un'area culturale delle immagini visive. In XY digitale, n. 1, pp. 12-27.
Ciravegna, E., Tolino, U. (2012). Packaging design e pubblica utilità. Sperimentazioni in cartone per comunicare la sicurezza domestica. Milano: Edizioni Dativo.
Geroimenko, V., Chaomei, C. (Eds.). (2006). Visualizing the Semantic Web, XML-based Internet and Information Visualization. London: Springer-Verlag.
Gillian, R. (2012). Visual Methodologies. An Introduction to Researching with Visual Material. London: Sage.
Heller, J. (2020). Augmented Reality (AR) for holographic product information in times of COVID19. <https://medium.com/@HellerJonas/augmented-reality-ar-for-holographic-product-information-in-times-of-covid19-8cbe0376bd69> (accessed 9 August 2022).
Johansson, S. (2021). Information design for product visualisations: Developement of a information design for carton boxes. Tesi di dottorato in Industrial Design Engineering, relatore Å. Wikberg-Nilsson, Luleå University of Technology, Department of Social Sciences, Technology and Arts.
Kagermann, H., Lukas, W.D., Wahlster, W. (2011). Industrie 4.0: Mit dem Internet der Dinge auf dem Weg zur 4. industriellen Revolution. In VDI nachrichten, 13(11). <https://www-live.dfki.de/fileadmin/user_upload/DFKI/Medien/News_Media/Presse/Presse-Highlights/vdinach2011a13-ind4.0-Internet-Dinge.pdf> (accessed 9 August 2022).
McCarthy, E.J. (1960). Basic Marketing: A Managerial Approach. Homewood: R.D. Irwin Editor.
McLuhan, M. (1964). Understanding Media: The Extensions of Man. London and New York: McGraw Hill.
MiSE - Ministero dello Sviluppo Economico. (2018). Piano Nazionale Industria 4.0. Disponibile all'indirizzo web: <https://www.mise.gov.it/images/stories/documenti/guida_industria_40.pdf> (accessed 9 August 2022).
Pine, J.B., Gilmore, J.H. (2000). L'economia delle Esperienze. Oltre il servizio. Milano: Rizzoli Etas.
Prodi, E., Sghezzi, F., Tiraboschi, M. (a cura di). (2017). Il piano Industria 4.0 un anno dopo. Analisi e prospettive future. Modena: Adapt University Press.
Schultz, D.E., Tannenbaum S., Lauterborn, R. (1993). Integrated Marketing Communication: Pulling It Together and Making It Work. New York: McGraw-Hill.
Shukla, P., Singh, J., Wang, W. (2022). The influence of creative packaging design on customer motivation to process and purchase decisions. In Journal of Business Research, Volume 147, 2022, pp. 338-347.
Troiano M. (2018). LabelAR. Nuove frontiere dell'esperienza d'acquisto: extended packaging per un'alimentazione consapevole. Tesi di laurea in Design della Comunicazione, relatore O. Formati. Accademia di Belle Arti di Napoli.
Wang, E. (2013). The influence of visual packaging design on perceived food product quality, value, and brand preference. In International Journal of Retail and Distribution Management, 10(41), pp. 805-816.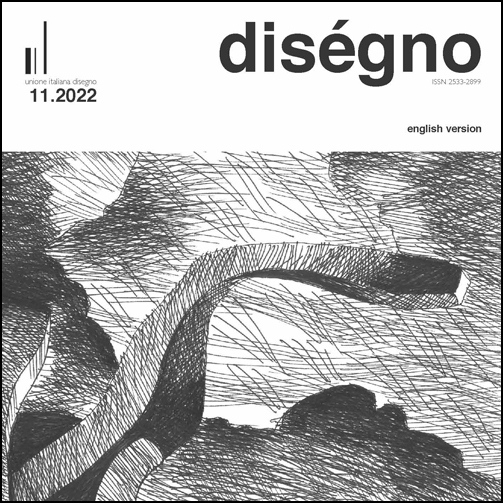 Downloads
How to Cite
[1]
S. Chiarenza and O. Formati, "Packaging Design as a Graphic Interface between Traditional Communication and New Technologies", diségno, no. 11, pp. 91–102, Dec. 2022.
Section
Masters and Practices
License
Copyright (c) 2022 diségno
This work is licensed under a Creative Commons Attribution 4.0 International License.