Alberto Carpiceci: Drawing Fantasy Architecture
Keywords:
fantasy architecture, history of representation, Rome, Leonardo da Vinci
Abstract
This contribution focuses on the visionary component of Carpiceci's architectural composition. An 'integral architect' and a humanist, Alberto Carpiceci (1916-2007) graduated from the Faculty of Architecture in Rome in 1939.
As a follower especially of Vincenzo Fasolo, whom he assisted for a while, Carpiceci learnt History and Stiles of Architecture, not only of the ancient Rome but of both Renaissance and Baroque, too. He focused not so much on decorative details but on the aspiration to the large-scale project, the magnificence, both monumental and celebrative components.
This cultural background triggered his passion for Michelangelo and, above all, for Leonardo, one of the main topics of his research over his whole lifetime.
Leonardo's architectural drawings, which inspired many other visionary architects, such as Ètienne-Louis Boullée, were studied and redrawn by Carpiceci, becoming one of the keys to understanding his visionary architectures.
Fantastic summaries of several influences being strayed throughout history were reworked by Carpiceci's creative soul and constructive mind through the medium of the drawing, which has always been the nodal point of his work, not only concerning architecture but tout court.
References
Benedetti C. (1998). Pasolini contro calvino. Per una letteratura impura. Torino: Bollati Boringhieri.
Carpiceci A. (1980). Egitto. Firenze: Bonechi Editore.
Carpiceci A. (1983). La Fabbrica di San Pietro. Firenze: Bonechi Editore.
Carpiceci A. (1984). L'architettura di Leonardo. Firenze: Bonechi Editore.
Carpiceci M. (2010). Filologia/ermeneutica dell'architettura leonardiana. In Disegnare idee immagini n. 41. Roma: Gangemi Editore.
Fasolo V. (s.d.). Analisi grafica dei valori architettonici. Lezioni del Prof. Vincenzo Fasolo. Università di Roma, Facoltà di Architettura, Istituto di Storia dell'architettura. Roma.
Di Franco A. (2014). Il segno e l'idea. In V. Gregotti, Il Disegno come strumento di progetto, pp. 7-9. Milano: Marinotti Edizioni.
Ferri G. (2020). Arti figurative e architettura: lo scultore Lorenzo Ferri e l'architetto Alberto Carlo Carpiceci nell'Italia del Novecento. In Territori della Cultura, n. 41, pp. 24-53.
Füssli J. H. (2000). Aforismi sull'arte. Milano: Abscondita.
Gregotti V. (2014). Il Disegno come strumento di progetto. Milano: Marinotti Edizioni.
Summerson J. (2000). Il linguaggio classico dell'architettura. Torino: Einaudi. [Prima ed. The Classic Language of Architecture. Methuen & Co. Ltd, London 1963].
Vagnetti L. (1958). Disegno e Architettura. Genova: società editrice Vitali e Ghianda.
Vighi R. (1941). La villa ad esedra dell'Acqua Claudia. In Palladio, anno V, n. 4, pp. 145-160.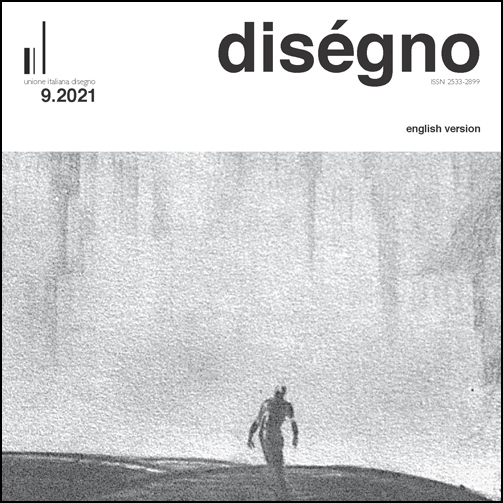 Downloads
How to Cite
[1]
M. Carpiceci and A. Schiavo, "Alberto Carpiceci: Drawing Fantasy Architecture", diségno, no. 9, pp. 181–192, Dec. 2021.
Section
Visionary Experiences
License
Copyright (c) 2021 diségno
This work is licensed under a Creative Commons Attribution 4.0 International License.