In-between places. Multi-scale digital hybridations of the Campania caves&quarries system
Keywords:
Quarries, Territorial Information System, Multiscalar representation, Perception, Memory
Abstract
Mining sites represent one of the greatest challenges for territorial regeneration policies in Europe and in the world, often defined, in their spatial-typological connotations, with meanings that generally suggest negative qualities such as episodic fragmented and, at times, degraded spaces, not highlighting their value as 'cultural landscapes'. Despite a preliminary and non-exhaustive national and regional regulatory framework, the issue of enhancing these areas needs greater attention from the scientific community, especially in respect of the current international scenario. Specifically, due to its numerous concentration of mining areas, the territorial reality of the Campania region deserves particular attention, with the development of an open information system from which to derive a synoptic representation of the state of affairs that integrates the historical-cultural identity with the figurative and perceptive dimension of places.
References
Antuono, G., Cera, V., Cirillo, V., Lanzara, E. (2020). Digital management of quarries system for sustainable development of territory. In SMC Sustainable Mediterranean Construction, n. 12, pp. 221-228.
Bachelard, G. (1999). La poetica dello spazio. Bari: Dedalo.
Bianchini, C., Casale, A., Empler, T., Esposito, D., Inglese, C., Ippoliti, E., Ippolito, A., Ribichini, L., Valenti, G. & Viscogliosi, A. (2019). Ecosistemi digitali - Digital Ecosystem. In Paesaggio urbano, n. 1, pp. 42-51.
Buondonno, A. (2001). Le aree di cava della città di Caserta: dal dissesto geopedologico alla riqualificazione ambientale. In A. Rigillo et al. (a cura di). La città continua. Il sistema urbano da Capua a Maddaloni, pp. 77-84. Caserta: L'Aperia editore.
Cardone, V. (2008). Modelli grafici dell'architettura e del territorio. Salerno: Cues.
Cardone, V. (1993). Le attività estrattive. In V. Cardone e L. M. Papa (a cura di). L'identità dei Campi flegrei, pp. 63-86. Napoli: CUEN.
Cassatella, C. (2011). Assessing Visual and Social Perceptions of Landscape. In C. Cassatella e A. Peano (a cura di). Landscapes indicators, pp.105-140. Dordrecht: Springer.
Clément, G. (2005). Manifesto del Terzo Paesaggio. Macerata: Quodlibet.
Conti, S., Valerio, V. (2012). La Terra di Lavoro nella Storia. Dalla Cartografia al Vedutismo. Associazione Roberto Almagià. Caserta: Roberto Almagià" Editore, pp. 102-103.
Comune di Napoli (a cura di). Il sottosuolo di Napoli. Relazione della commissione di Studio. 1967.
De Sousa Freitas, J., Cronemberger, J., Soares, R. M., Amorim, David, C. N. (2020). Modeling and assessing BIPV envelopes using parametric Rhinoceros plugins Grasshopper and Ladybug. In Renewable Energy, v. 160, pp. 1468-1479.
Ferrighi, A. (2015). Cities over space and time. Historical GIS for Urban History. In S. Brusaporci. Handbook of Research on Emerging Digital Tools for Architectural Surveying, Modeling, and Representation, pp. 425-445. Hershey: IGI Global.
Fink, T., Koenig, R. (2019). Integrated Parametric Urban Design in Grasshopper/ Rhinoceros 3D Demonstrated on a Master Plan in Vienna. In Proceedings of the 37th eCAADe and 23rd SIGraDi Conference. Porto, 11-13 September, v. 3, pp. 313-322. ECAADe.
Genet, J.P. (1994). Source, Metasource, texte, histoire. In Bocchi F., Denley P. (a cura di). Storia e multimedia, pp. 3-17. Bologna: Grafis.
La Russa, F. M., Santagati, C. (2021). Dagli OpenData ai modelli di città: un approccio Anti-Fragile per il City Information Modeling. In Dienne, vol.7, pp. 83-95.
Liuzzo M., Giuliano S. (2016). Dal rilievo alla divulgazione: metodologie integrate per la fruizione virtuale del territorio. In F. Capano, M. I. Pascariello e M. Visone (a cura di). Delli Aspetti de Paesi. Vecchi e nuovi Media per l'Immagine del Paesaggio, pp. 327- 336. Napoli: FedOA - Federico II University Press.
Milledge, D.G., Lane, S.N. & Warburton, J. (2009). Optimization of Stereomatching algorithms Using Existing DEM Data. In Photogrammetric Engineering & Remote Sensing, v. 75, n. 3, pp. 323-333(11).
Papa, L. M. (1993). Le "miniere" dei Colli Leucogei. In V. Cardone e L. M. Papa. L'identità dei Campi flegrei, pp. 94-101. Napoli: CUEN.
Parrinello, S., Picchio, F. & Bercigli, M. (2016). La 'migrazione' della realtà in scenari virtuali: Banche dati e sistemi di documentazione per la musealizzazione di ambienti complessi. In DisegnareCon, v. 9, n.17, pp. 14.1-14.8.
Santarelli, I. (2015). Riscritture per il sottosuolo ex-estrattivo. Strategie di recupero tra memoria, tutela ambientale e nuovi usi per la città contemporanea. Tesi di Dottorato di Ricerca XXVIII ciclo. Tutor: prof.ssa Paola Veronica Dell'Aira. Sapienza Università di Roma, DiAP.
Schlögel, R., Marchesini, I., Alvioli, M., Reichenbach, P., Rossi, M. & Malet, J. P. (2018). Optimizing landslide susceptibility zonation: Effects of DEM spatial resolution and slope unit delineation on logistic regression models. In Geomorphology, v. 301, pp. 10-20.
Török, Á., Bögöly, G., Somogyi, Á., Lovas, T. (2020). Application of UAV in Topographic Modelling and Structural Geological Mapping of Quarries and Their Surroundings - Delineation of Fault-Bordered Raw Material Reserves. In Sensors, v. 20, n. 2, 489.
Trasi, N. (2001). Paesaggi rifiutati Paesaggi riciclati. Prospettive e approcci contemporanei. Roma: Editrice Librerie Dedalo.
Velho L., Frery A. C., Gomes J. (2009). Image Processing for Computer Graphics and Vision. London: Springer.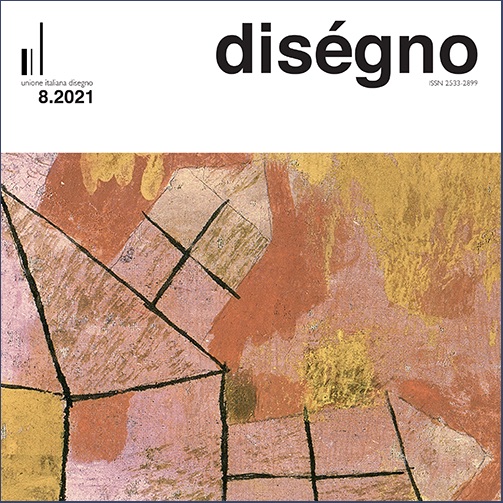 Downloads
How to Cite
[1]
G. Antuono, V. Cera, V. Cirillo, and E. Lanzara, "In-between places. Multi-scale digital hybridations of the Campania caves&quarries system", diségno, no. 8, pp. 143–156, Jul. 2021.
License
Copyright (c) 2021 diségno
This work is licensed under a Creative Commons Attribution 4.0 International License.