D2
Abstract
In recent decades, especially since the 1990s, the growing of training courses in the area of design has brought about an exceptional variety of design declinations.
A sort of euphoric openness towards the most varied thematic areas, from product to service, from interiors to fashion and, of course, to communication, a discipline transversal to multiple project spaces, has favored a pulviscular articulation also in the sectors adjacent to design, such as, undoubtedly, drawing. [read more]
References
Barbieri, D. (2015). Guardare e leggere. La comunicazione visiva dalla pittura alla tipografia. Roma: Carocci.
Bistagnino, E. (2010). Disegno-Design. Introduzione alla cultura della rappresentazione. Milano: FrancoAngeli.
Cennini, C. (1437). Libro dell'arte. Edizione consultata: a cura di Milanesi, C., Milanesi, G. (1859). Firenze: Le Monnier.
Falcinelli, R. (2011). Guardare Pensare Progettare. Neuroscienze per il design. Roma: Stampa Alternativa & Graffiti.
Maldonado, T. (2005). Memoria e Conoscenza. Sulle sorti del sapere nella prospettiva digitale. Milano: Feltrinelli.
Maldonado, T. (2018). Conversazione sul Disegno con Tomás Maldonado. In Bistagnino, E. Il Disegno nella Scuola di Ulm. Milano: FrancoAngeli, p. 88.
Mitchell, W.J.T. (2018). Scienza delle immagini. Iconologia, cultura visual ed estetica dei media. Milano: Johan & Levi Editore.
Portoghesi, P. (1989). Introduzione e note. In Alberti, L.B. L'Architettura. Milano: Edizioni il Polifilo.
Vercellone, F. (2016). L'universalità dell'ermeneutica nel tempo dell''immagine del mondo. Note e riflessioni. In Lo sguardo, No. 20, pp. 41-55. <http://www.losguardo.net/it/homepage/>(consultato il 7 dicembre 2022)
Volli, U. (2016). Prefazione. In Antonucci, R. Arte e/o Design. Milano: Mimesis, p. 9.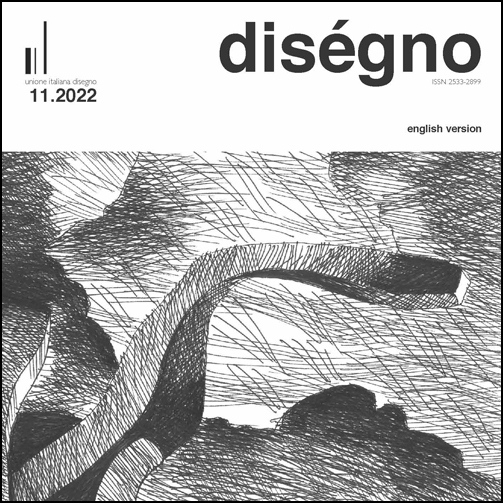 Downloads
How to Cite
[1]
E. Bistagnino, "D2", diségno, no. 11, pp. 173–176, Dec. 2022.
Section
Languages and Devices
License
Copyright (c) 2022 diségno
This work is licensed under a Creative Commons Attribution 4.0 International License.