The Map of Padua by Giovanni Valle: Hypertext/Hyper-Representation Ante Litteram
Abstract
The city of Padua is surveyed by technicians coordinated by Giovanni Valle, who elaborates, draws and 'amends', under the direction of Simone Stratico –whose role has not yet been clarified [1]– a map that was engraved in Rome, within 1784, by Giovanni Volpato. For technical reasons the huge surface of the drawing is transfered on 20 copper plates of various sizes [Ghironi, Mazzi 1985] becoming, in its original edition, one of the most important and famous maps of the city. Realized according to precise criteria of geometric measurement, it can be considered, therefore, a punctual record of the urban
condition of Padua in the 18th century [Zaggia 2009]. (read more)
References
Bevilacqua, M. (2010). Giovanni Battista Nolli, Nuova Pianta di Roma (1748). In M. Folin (a cura di). Rappresentare la città. Topografie urbane nell'Italia di antico regime, pp. 373-384. Reggio Emilia: Diabasis.
Cardone, V. (1996). Gaspard Monge: scienziato della rivoluzione. Napoli: Cuen.
Cardone, V. (2017). Gaspard Monge padre dell'ingegnere contemporaneo. Roma: DEI Tipografia del Genio Civile.
De Carlo, L. (a cura di). (2014). Metamorfosi dell'immagine urbana: Rappresentazione, documentazione, interpretazione, comunicazione. Roma: Gangemi editore.
Gauthiez, B. (2006). Histoire de la cartographie des villes aux XVIe-XVIIIe siecles. Apparition et évolution des modes de represéntation. In Città e Storia, a I, n. 2, pp. 359-376.
Ghironi, S., Mazzi, G. (1985). Padova - piante e vedute: (1449-1865). Padova: Panda Edizioni.
Huffman Lanzoni, K., Giordano, A., Bruzelius, C. (eds.). (2018). Visualizing Venice. Mapping and Modeling Time and Change in a City. London-New York: Routledge.
Mazzi, G. (1987). Il disegno preparatorio: appunti sulla formazione dell'immagine. In E. Bevilacqua, L. Puppi. (a cura di). Padova il volto della città. Dalla pianta del Valle al fotopiano, pp. 30-37. Padova: Editoriale Programma.
Mazzi, G. (2013). Giovanni Valle's map of Padua. In D. Calabi. (ed.). Built city, designed city virtual city. The museum of the city, pp. 187-197. Roma: Croma.
Nancy, J.L. (2007). La rappresentazione interdetta. In M. Bellini. L'orrore nelle arti. Prospettive estetiche sull'immaginazione del limite, pp. 77-101. Napoli: Cristian Lucisano Editore.
Nuti, L. (1996). Ritratti di città: visione e memoria tra Medioevo e Settecento. Venezia: Marsilio.
Stroffolino, D. (1999). La città misurata: tecniche e strumenti di rilevamento nei trattati a stampa del Cinquecento. Roma: Salerno.
Zaggia, S. (2009). Dis-armare e attrezzare la città: mura, strade, edilizia a Padova tra Otto e Novecento. In Città e Storia, a. IV, n. 2, pp. 389-401.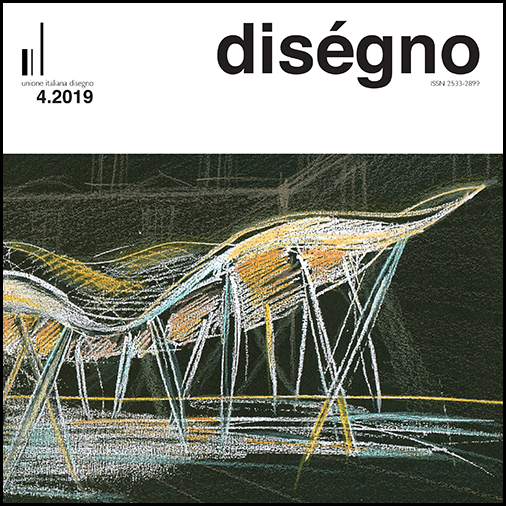 Downloads
How to Cite
[1]
A. Giordano, "The Map of Padua by Giovanni Valle: Hypertext/Hyper-Representation Ante Litteram", diségno, vol. 1, no. 4, pp. 21–24, Jun. 2019.
License
This work is licensed under a Creative Commons Attribution 4.0 International License.