Beyond the Limit in Piranesi's Art
Keywords:
Piranesi, limit, etching, perspective, architectural fantasies
Abstract
The contribution investigates the theme of overcoming the limit in Piranesi's art, examining the subject in three different aspects: the technical, perspective and architectural fields.
In the technical sphere, Piranesi went beyond the limit during his incessant experimentation to get the secret of etching to which he aspired. The price he had to pay to achieve the freedom, poetry and freshness of sign, with which he expressed the power, depth and audacity of his imagination, concerned some technical failures found on the copper matrices.
His overcoming the limits in the field of perspective is demonstrated by the expedients with which Piranesi skilfully mastered perspective to adapt the composition to his aesthetic and expressive wishes, anticipating and synthesising modern cinematographic techniques in a single image.
In architecture, the overcoming of limits can be found in his inventions: in the impossible configurations of the Carceri and the colossal architectural fantasies collected in the Opere varie. Not having the opportunity to devote himself to concrete design practice, Piranesi entrusted his utopias to imagination and drawing.
References
Bevilacqua, M. (2006). The Young Piranesi:The Itineraries of His Formation. In Memoirs of the American Academy in Rome. Supplementary Volumes, vol. 4, The Serpent and the Stylus: Essays on G.B. Piranesi, pp. 13-53.
Bianconi, G.L. (1976). Elogio storico del cavaliere Giovanni Battista Piranesi celebre antiquario, ed incisore di Roma. In Grafica grafica, II, 2, pp. 127-135. [Prima ed. 1779].
Focillon, H. (1918). Giovanni-Battista Piranesi. Essai de catalogue raisonné de son œuvre. Paris: Henri Laurens.
Focillon, H. (1967). Giovanni Battista Piranesi. M. Calvesi, A. Monferini (a cura di). Bologna: Alfa.
Focillon, H. (2006). Estetica dei visionari: Daumier, Rembrandt, Piranesi,Turn- er,Tintoretto, El Greco. Milano: Abscondita.
Garms, J. (1978). Prima Parte di Architetture e Prospettive (1743). In A. Bettagno (a cura di). Piranesi incisioni-rami-legature-architetture, pp. 16-24. Vicenza: Neri Pozza.
Ghedin, L. (2010). Il restauro delle matrici. In G. Mariani (a cura di). Giambattista Piranesi: matrici incise. 1743-1753, pp.19-22. Milano: Mazzotta.
Legrand, J.G. (1976). Notice historique sur la vie et les ouvrages de J.B. Piranesi Architecte, peintre et graveur, né à Venise en 1720, mort à Rome en 1778. In Grafica grafica, II, 2, pp. 137-162. [First ed. 1799].
Mariani, G. (2010). Giambattista Piranesi: matrici incise. 1743-1753. Milano: Mazzotta.
Marletta, A. (2011). L'arte del contemperare. Storia e progetto nell'opera "Il Campo Marzio dell'antica Roma" di Giovanni Battista Piranesi. PhD thesis in Teoria e Storia della Rappresentazione ICAR/17, tutor G. Pagnano. Università degli Studi di Catania.
Menconero, S. (2020a). Piranesi at the Nymphaeum of Egeria: Per- spective Expedients. In L. Agustín-Hernández, A. Vallespín Muniesa, A. Fernández-Morales (eds.). Graphical Heritage, Vol. 6, pp. 343-356. Cham: Springer.
Menconero, S. (2020b). A 'Ponte magnifico' between imagination and image: connections between drawing and thought in Piranesian art. In A. Arena, M. Arena, R.G. Brandolino, D. Colistra, D. Ginex, D. Mediati,
S. Nucifora, P. Raffa (Eds.). Connecting. Drawing for weaving relationship. Proceedings of the 42nd International Conference of Representation Disciplines Teachers, pp. 1241-1264. Milano: Franco Angeli.
Menconero, S. (2021). Tra immagine e immaginazione: analisi e interpretazione dello spazio u-topico. La serie delle Carceri piranesiane. PhD thesis in Storia, Disegno e Restauro dell'Architettura – Curriculum Disegno ICAR/17, tutor L. Carnevali, M. Fasolo, L. Baglioni. Sapienza Università di Roma.
Palma, G., Siotto, E., Proesmans, M., Baldassarri, M., Baracchini, C., Batino, S., Scopigno, R. (2012). Telling the Story of Ancient Coins by Means of Interactive RTI Images Visualization. In CAA Conference Proceedings, pp. 177-185. Amsterdam: Pallas Publication – Amsterdam University Press.
Panza, P. (1998). Piranesi architetto. Milano: Guerini studio.
Piranesi, G.B. (1764). Raccolta di alcuni disegni del Barbieri da Cento dello il Guercino. Roma: Stamperia Salomoni.
Piranesi, G.B. (1784). Prefazione agli studiosi di antichità romane. In Le Antichità Romane. Roma: Bouchard e Gravier.
Ponchio, F., Lamé, M., Scopigno, R., Robertson, B. (2018). Visualizing and transcribing complex writings through RTI. In IEEE 5th International Con- gress on Information Science and Technology (CiSt), pp. 227-231.
Purini, F. (2008). Attualità di Giovanni Battista Piranesi. Melfi: Librìa.
Quici, F. (2014). Ricerca e pedagogia con la rappresentazione nell'esperienza di László Moholy-Nagy. In Disegnare. Idee, immagini, n. 49, pp. 60-69.
Rapp, J.B. (2008). A geometrical analysis of multiple viewpoint perspective in the work of Giovanni Battista Piranesi: an application of geometric restitution of perspective. In The Journal of Architecture, vol. 13, n. 6, pp. 701-736.
Robison, A. (1986). Piranesi. Early architectural fantasies. A catalogue raisonné of the etchings. Washington: National Gallery of Art.
Rossi, F. (2016). Giovanni Battista Piranesi e il suo apprendistato presso i Valeriani. In F. Rossi (a cura di). Piranesi prima e dopo. Italia-Russia. XVIII-XXI secolo, pp. 25-30. Moskva: Antiga edizioni.
Tafuri, M. (1980). La sfera e il labirinto. Avanguardie e architettura da Piranesi agli anni '70. Torino: Einaudi.
Trassari Filippetto, G. (2008). Etching. New Haven: Knights of Colum- bus Museum.
Walpole, H. (1871). Anecdotes of painting in England. London: Alexander Murray.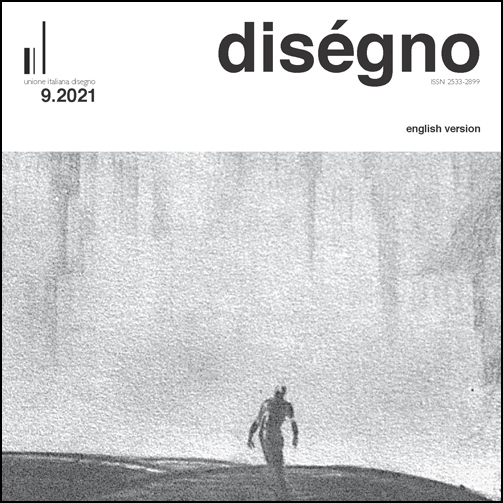 Downloads
How to Cite
[1]
S. Menconero, "Beyond the Limit in Piranesi's Art", diségno, no. 9, pp. 121–132, Dec. 2021.
Section
Visionary Masters
License
Copyright (c) 2021 diségno
This work is licensed under a Creative Commons Attribution 4.0 International License.