Drawing space in the places of myth: Luigi Moretti and Sicily
Keywords:
Luigi Moretti, Messina, Unbuilt architecture, Virtuality, 3D Model
Abstract
How was architecture designed in the 1930s? This is the starting question through which we want to set up a wider reflection on the architecture of that period, taking as reference a Sicilian project by Luigi Moretti: the Casa del Balilla in Messina, dating back to 1936. The initial analysis of the building's drawings is aimed at evaluating the expressive contents of drawing as a disciplinary instrument of architecture. But the fact that Luigi Moretti's first work in Sicily has never been built has also led to the elaboration of a further exegesis, consisting in the construction of a virtual three-dimensional model of the building: a process aimed at verifying the complexity of the forms transcending the unpredictability that pervades the final product of this logical-applicative consecutio of the tools of Science of Representation, digital images. Therefore, the reduction of the three-dimensional object (the model) into a two-dimensional entity (the image) poses both metalinguistic and projective questions: the model acts as a critical instrument that explains the reality imagined by Luigi Moretti, returning – through the heuristic force of images – all those syntactic, spatial, architectural, urban or even territorial tensions that the building would have possibly generated.
References
Avella, F. (2012). Esterno interno. L'immagine sincronica nel disegno di architettura. Palermo: Edizioni Caracol.
Barbera, P. (2002). Architettura in Sicilia tra le due guerre. Palermo: Sellerio Editore.
Bozzoni, C., Fonti D., Muntoni, A. (a cura di). (2012). Luigi Moretti. Architetto del Novecento. Roma: Gangemi Editore.
Capomolla, R., Mulazzani, M., Vittorini, R. (2008). Case del Balilla. Architettura e fascismo. Milano: Mondadori Electa.
Clemente, M. (2012). Comporre e scomporre l'architettura: dall'analisi grafica al disegno di progetto. Roma: Aracne Editrice.
Corbellini, G. (2015). Exlibris. 16 parole chiave dell'architettura contemporanea. Siracusa: LetteraVentidue.
Di Benedetto, G. (2018). Antologia dell'architettura moderna in Sicilia. Palermo: 40due Edizioni.
Di Leo, G.L., Lo Curzio, M. (1985). Messina, una città ricostruita. Materiali per lo studio di una realtà urbana. Bari: Edizioni Dedalo.
Diemoz, L. (1937). Propositi di artisti: Luigi Moretti Architetto, In Quadrivio, 13/12/1937, p. 5.
Docci, M., Chiavoni, E. (2017). Saper leggere l'architettura. Roma-Bari: Editori Laterza.
Dotto, E. (2002). Il disegno degli ovali armonici. Catania: Le nove muse. Mercadante, R. (2009). Messina dopo il terremoto del 1908. La ricostruzione dal piano Borzì agli interventi fascisti. Palermo: Edizioni Caracol.
Norberg-Schulz, C. (1979). Genius loci. Paesaggio ambiente architettura. Milano: Mondadori Electa.
Rostagni, C. (2008). Luigi Moretti 1907-1973. Milano: Mondadori Electa.
Santuccio, S. (a cura di). (1986). Luigi Moretti. Bologna: Zanichelli.
Santuccio, S. (a cura di). (2005). Le case e il foro. L'architettura dell'ONB. Firenze: Alinea.
Santuccio, S. (2003). Il disegno razionale. In C. Mezzetti (a cura di). Il Disegno dell'architettura italiana nel XX secolo, pp. 149-192. Roma: Edizioni Kappa.
Ugo, V. (1994). Fondamenti della rappresentazione architettonica. Bologna: Società Editrice Esculapio.
Ugo, V. (1996). Rappresentare. In RectoVerso, n. 7, p. 1.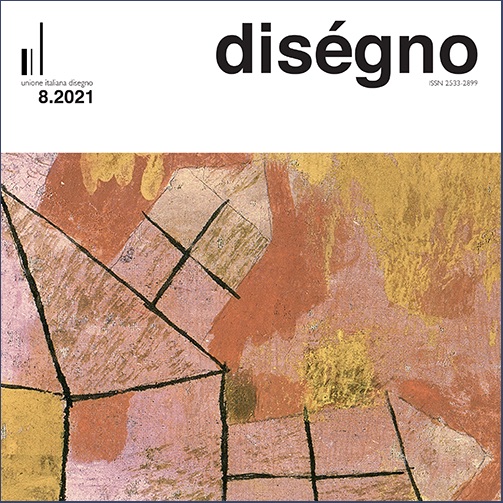 Downloads
How to Cite
[1]
S. Damiano, "Drawing space in the places of myth: Luigi Moretti and Sicily", diségno, no. 8, pp. 131–142, Jul. 2021.
License
Copyright (c) 2021 diségno
This work is licensed under a Creative Commons Attribution 4.0 International License.