Bodily Simultaneity in Avant-garde Art. Graphic Readings and Schemas
Keywords:
schema, graphic analysis, avant-garde arte, choreography, set-design
Abstract
Starting from the graphic expressions pertaining to the artistic avant-garde and their influence on the performing arts, the aim of the article is to investigate the relationship between geometry and bodies in motion in costume and set designs dedicated to dance. The proposed readings concern the analysis of some emblematic representations of the artistic avant-garde that shared a profound interest in costume and set-design with those choreographers, dancers and music composers who were contributing to establish a vision of theatre strongly rooted in the socio-political worries of the time. The graphic interpretation dwells in the first instance on the sketches and costumes with the aim of tracing those geometric and distributive connections that exist between the totality of the human figure and the parts that define its dynamics. Subsequently some analytical schemas are proposed on the photograms of two ballets performed for the first time by Serge Diaghilev's company, La Chatte (1927) and Les Noces (1923). In this case the choreographic structure, the arrangement of gestures in space, the directions and the dynamic elements are analyzed in order to frame and distinguish relationships between things and movements by means of force lines, in a mosaic of weights and graphic balances, seeing in the drawing a possible dimension of choreographic explication.
References
Andréevskaïa, G., Smirina, A. (1998). La grande histoire du ballet russe: De l'art à la chorégraphie. Bournemouth: Parkstone press.
Bowit, J. E. (1977). Constructivism and Russian Stage Design. In Performing Arts Journal, Vol. 1, n. 3, pp. 62-84.
Cometa, M., Vaccaro, S. (a cura di). (2007). Lo sguardo di Foucault. Roma: Meltemi editore.
De Brunoff, M. (a cura di). (1922). Collection des plus beaux numéros de Comoedia illustré et des programmes consacrés aux ballets et galas russes depuis le début à Paris. 1909-1921. Parigi: M. de Brunoff Éditeur.
Deleuze, G. (2002). L'Immagine-movimento. Milano: Ubulibri.
Houghton, N. (1956). Soviet Theatres, 1917-1941. In American Slavic and East European Review, Vol. 3, n. 15, pp. 437-439.
Misler, N. (2018). L'arte del movimento in Russia (1920-1930). Torino: Umberto Allemandi.
Mudrak, M. M. (1976). The Development of Constructivist Stage Design in Soviet Russia. In Soviet Union, n. 3, pp. 253-268.
Mudrak, M. (1986). The New Generation and Artistic Modernism in the Ukraine. Ann Arbor, Mich.: UMI Research.
Mudrak, M. M. (2015). From the Easel to the Stage Set: The Avant-Garde Painter and the Theater. In M. Mudrak, T. Rudenko (eds.). Staging the Ukrainian Avant-Garde of the 1910s and 1920s. New York: The Ukrainian Museum, pp. 16-43.
Pasi, M., Rigotti, D., Turnbull, A. V. (1993). Danza e balletto. Milano: Jaka Book.
Pritchard, J. (a cura di). (2015). Diaghilev and the golden age of the Ballet Russes 1909-1929. Londra: V&A Publishing.
Rennert J., Terry W. (1975). 100 ans d'affiches de la danse. New York: Henri Veyrier.
Rudnitskii, K., Milne, L. (1989). Russian and Soviet Theater 1905-1932. New York: Harry N Abrams Inc.
Sirotkina, I., Smith, R. (2017). The Sixth Sense of the Avant-Garde. Dance, Kinaesthesia and the Arts in Revolutionary Russia. Londra-New York: Bloomsbury Methuen Drama.
Souritz, E. (1988). Soviet Choreographers in the 1920s: Kasian Yaroslavich Goleizovsky. In Dance Research Journal, Russian issue, Vol. 20, n. 2, pp. 9-22.
Spencer, C. (1974). The world of Sergej Diaghilev. New York: The Viking Press.
Tombari U. et al. (a cura di) (2019). A passi di danza. Isadora Duncan e le arti figurative in Italia tra Ottocento e avanguardia. Firenze: Edizioni Polistampa.
Veroli, P. (a cura di) (1991). Un mito della danza fra teatro e avanguardie artistiche. Bologna: Edizioni Bora.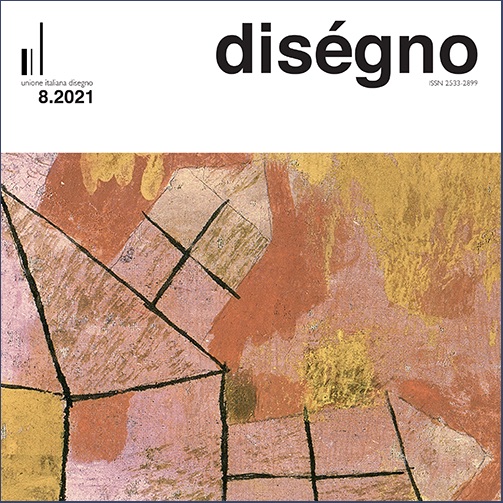 Downloads
How to Cite
[1]
S. Vattano, "Bodily Simultaneity in Avant-garde Art. Graphic Readings and Schemas", diségno, no. 8, pp. 109–120, Jul. 2021.
License
Copyright (c) 2021 diségno
This work is licensed under a Creative Commons Attribution 4.0 International License.