The Sense of Measure and Graphic Communication. Three Pranks, Two Studies and a Consideration
Abstract
"A buon intenditor poche parole"; "A word to the wise (is sufficient)"; "À bon entendeur, demi-mot (suffit)"; "mezza parola": in practically every language (and in many dialects) there is a saying of analogous meaning. The meaning is clear: to communicate effectively with those who are experts, with those who are well versed in something and have a precise competence, very little is needed. No need to get lost in long speeches or detailed descriptions. ʻA half word' is enough for the wise (read more).
References
Allais, A. (1897). Album primo-avrilesque. Paris: Ollendorff Éditeur.
Basile, G. B. F. (1884). Curvatura delle linee dell'architettura antica con un metodo per lo studio dei monumenti. Epoca dorico-sicula. Palermo: Tipografia del giornale "Lo Statuto".
Calvino, I. (1993). Lezioni Americane. Sei proposte per il prossimo millennio, pp. 63-88. Milano: Mondadori.
Carroll, L. (1876). The Hunting of the Snark. An Agony in Eight Fits. London: Macmillan Publishers.
Dotto, E. (2009). Il "Duomo di Monreale illustrato" di Domenico Benedetto Gravina. In AA. VV., Ikhnos 2009. Analisi grafica e storia della rappresentazione, pp. 73-104. Siracusa: Lombardi Editori.
Dotto, E. (2011). Disorientarsi. L'atopia del punto di vista. In AA. VV., Idee per la rappresentazione 4. Trascrizioni. Atti del seminario. Palermo, 3 marzo 2011, pp. 324-331. Roma: Artegrafica PLS.
Dotto, E. (2012). Il senso della misura. Precisione e conoscenza nel trattato sulla "Curvatura" di Giovan Battista Filippo Basile. In AA. VV. Ikhnos 2011. Analisi grafica e storia della rappresentazione, pp. 169-186. Siracusa: Lombardi Editori.
Ginzburg, C. (1986). Spie. Radici di un paradigma indiziario. In Ginzburg, C. Miti emblemi spie. Morfologia e Storia, pp. 158-209. Torino: Einaudi.
Gravina, D. B. (1859-1870). Il Duomo di Monreale, Illustrato e riportato in tavole cromolitografiche. Palermo: Stabilimento Tipograf. di F. Lao.
Helg, F. (1988). Tradizione e contemporaneità nel dettaglio. In Il dettaglio non è un dettaglio. Atti del II Seminario di Primavera, Palermo, 23-25 maggio 1985, pp. 158-162. Palermo: Flaccovio Editore.
Kundera, M. (2005). Il sipario. Milano: Adelphi.
Steinberg, S. (1949). The Passport. New York: Harper & Brothers.
Zuboff, S. (2019). Il capitalismo della sorveglianza. Il futuro dell'umanità nell'era dei nuovi poteri. Bologna: Luiss University Press.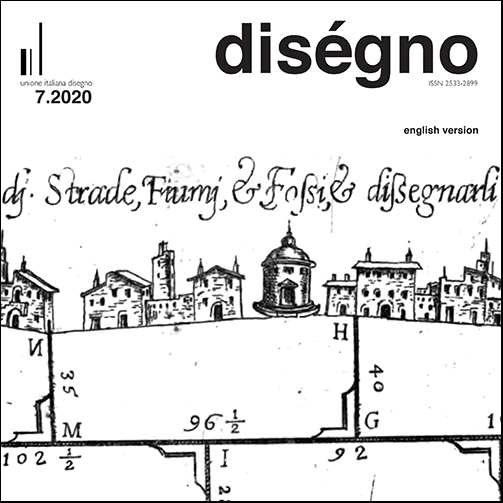 Downloads
How to Cite
[1]
E. Dotto, "The Sense of Measure and Graphic Communication. Three Pranks, Two Studies and a Consideration", diségno, no. 7, pp. 167–176, Dec. 2020.
Section
For communicating the complexity of images
License
Copyright (c) 2021 diségno
This work is licensed under a Creative Commons Attribution 4.0 International License.