Lucania's Landscape and Territory Between XVII and XIX Centuries Through Archival Drawings
Keywords:
territory, design, landscape, cabrei, maps
Abstract
Military reasons, disputes over matters of borders, indications on the use of the land, appraisals for damage following natural disasters
have led, over the last few centuries, to the production of a considerable archival graphic material, whose study allows us to
understand the settlement geography of an area, grasping the architectural peculiarities of buildings and reconstructing their transformations,
but also tracing signs of urban reality that have disappeared today, even before the traditional archaeological studies.
No less important is the graphic study of these iconographic testimonies to understand the rules of representation known to the
technicians of the time.
Starting from the examination of archive folders, among the various papers numerous graphic documents have been traced which
allowed to reconstruct the Lucanian settlement geography between the XVII and XIX centuries. A fundamental reflection was reserved
to the graphic study of these maps which highlighted the knowledge of the time surveyors on the construction of the represented
space, and how these were 'adapted' to the communication needs required by the different commissions.
References
Angelini, G. (1987). Agrimensori-cartografi in Basilicata tra l'Antico Regime
e l'Unità d'Italia. In Bollettino Storico della Basilicata, n. 3, pp. 189-203.
Angelini, G. (1989). Un'altra cartografia: il disegno geometrico e topografico
a grande scala tra '500 e '800. In I. Principe (a cura di). Cartografia storica di
Calabria e di Basilicata, p. 267. Vibo Valentia: Edizioni Monografiche.
Angelini, G. (2000). La cartografia storica. In A. Cestaro (a cura di). Storia
della Basilicata. L'età moderna, pp.114-138. Bari-Roma: Edizioni Laterza.
Angelini, G. (a cura di). (1988). Il disegno del territorio. Istituzioni e cartografia
in Basilicata. 1500-1800. Roma-Bari: Edizioni Laterza.
Cadinu, M. (a cura di). (2012). I catasti e la storia dei luoghi. Storia
dell'Urbanistica, n. 4. Roma: Edizioni Kappa.
Capano, F. (2004). Iconografie urbane di centri lucani tra XVII e XVIII
secolo. In De Seta C. (a cura di). Tra oriente e occidente. Città e iconografie
dal XVI al XIX secolo, pp. 209-215. Napoli: Electa.
Cerotto, P., Rispoli, F. (1995). Dentro la città: Potenza. Potenza: Edizioni
Ermes.
Damone, G. (2018). L'eredità dei paesaggi di pietra. Lettura e
documentazione dei centri scomparsi tra memoria e opportunità di recupero.
Lagonegro: Zaccara Editore.
Iannizzaro, V. (2006). Dalle Mappae mundi alle immagini satellitari.
Rappresentazione del territorio e cartografia tematica. Fisciano: Cues.
Ludovico, A. (1991). Rilevamento architettonico e topografico metodi e
strumenti nei secoli XVIII e XIX secolo. I catasti geometrici preunitari e la
misura generale del Granducato di Toscana. Roma: Edizioni Kappa.
Mazzolemi, D. (2005). Il valore iconologico. In D. Mazzoleni, M. Sepe (a
cura di). Rischio sismico, paesaggio, architettura: l'Irpinia, contributi per un
progetto, pp. 31-39. Napoli: Università degli Studi di Napoli Federico II.
Principe, I. (1991). Atlante storico della Basilicata. Cavallino: Capone.
Valerio, V. (1993). Società, uomini e istituzioni cartografiche nel Mezzogiorno
d'Italia. Firenze: Istituto Geografico Militare.
Verrastro, V. (2004). Archivio di Stato di Potenza. Viterbo: Bettagamma
editrice.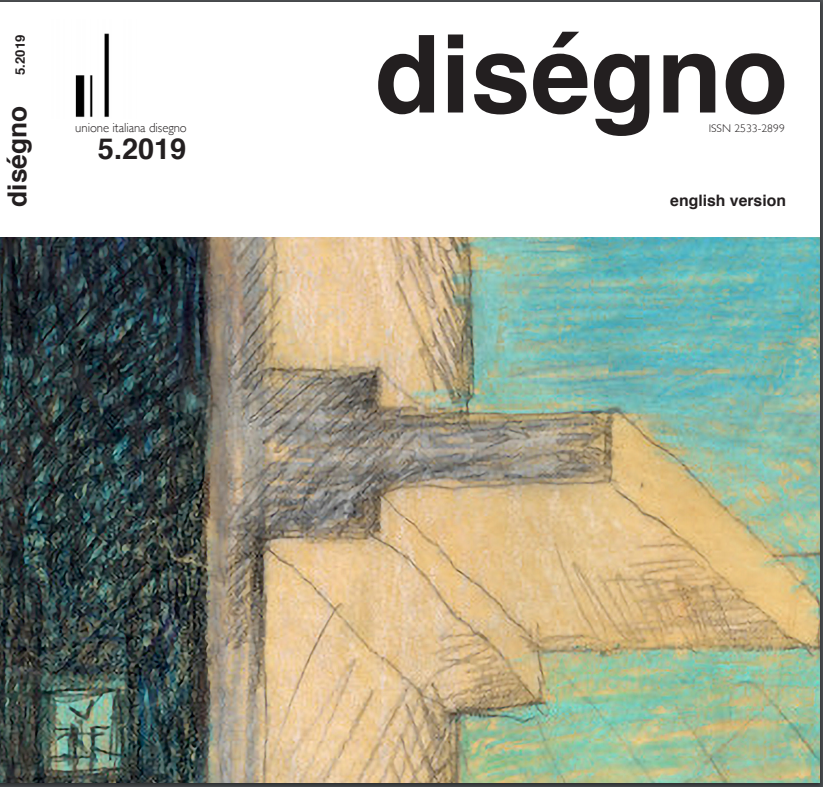 How to Cite
[1]
G. Damone, "Lucania's Landscape and Territory Between XVII and XIX Centuries Through Archival Drawings", diségno, vol. 1, no. 5, pp. pp. 169-180, Dec. 2019.
This work is licensed under a Creative Commons Attribution 4.0 International License.