The Basilica of Saint Peter: Surveys as Models of Knowledge (XVII and XVIII Centuries)
Keywords:
rilievo, immagini
Abstract
St. Peter's Basilica has attracted painters and surveyors since the early stages of the construction site, but it was its completion and the start of the «sinisters and various voices» on the dome's solidity to promote unprecedented aptitude in surveys both to reveal the marvel of its forms and to verify the stability of its structures. Different surveys that take over a century to elaborate: from 1620, when Martino Ferrabosco published his renderings on the basilica, to 1743 when Giovanni Poleni and Luigi Vanvitelli did their surveys for their analysis on its static behaviour and for the restoration of the Vatican dome.
References
Bussi, L., Carusi, M. (a cura di). (2009). Nuove ricerche sulla Gran Cupola del tempio Vaticano. Roma: Edizioni Preprogetti.
Como, M. (2015). Statica delle costruzioni storiche in muratura. Archi, volte, cupole, architetture monumentali, edifici sotto carichi verticali e sotto sisma. Roma: Aracne.
Curcio, G. (a cura di). (2003). Il Tempio Vaticano 1694. Carlo Fontana. Milano: Electa.
Eco, U. (2009). Vertigine della lista. Milano: Bompiani.
Ferrabosco, M. (1620). Libro de l'architettura di San Pietro nel Vaticano finito col disegno di Michel Angelo Bonaroto et d'altri architetti espressa en più tavole. Roma: Stamperia De Romanis.
Fontana, C. (1694). Templum Vaticanum Et Ipsius Origo Cum Aedificiis maxime conspicuis antiquitus, & recens ibidem constitutis; Editum Ab Equite Carolo Fontana Deputato celeberrimi eiusdem Templi Ministro, atque Architecto. Cum plerisque Regulis, novisque Architecturae Operationibus ab Ipsomet in lucem evulgatis. Cum Indice Rerum notabilium ad calcem locupletissimo. Opus In Septem Libros Distributum, Latinisque literis consignatum A Joane Jos: Bonnerve De S. Romain. Et dicatum Eminentissimis, ac Reverentissimis Dominis Cardinalibus Sacrae Congregationi R. Fabricae Divi Petri Deputatis. Roma: Ex Typographia Io: Francisci Buagni.
Hager, H. (1694). Del Tolo, o Cupola doppia, che cuopre il Tempio Vaticano. In G. Curcio (a cura di). Il Tempio Vaticano 1694. Carlo Fontana, pp. 154-168. Milano: Electa.
Martinez Mindeguía, F. (2010). Limiti e potenzialità del disegno. In Disegnare. Idee, immagini, n. 40, pp. 46-57.
Le Seur, T. et al. (1742). Parere di tre matematici sopra i danni che si sono trovati nella cupola di San Pietro. Roma.
Le Seur, T., Jacquier, F., Boscovich, G. (1743). Riflessioni de padri Tommaso Le Seur, Francesco Jacquier dell'Ordine de' Minimi, e Ruggiero Giuseppe Boscovich della Compagnia di Gesù, sopra alcune difficoltà spettanti i danni, e risarcimenti della Cupola di S. Pietro. Roma.
Poleni, G. (1748). Memorie Istoriche della Gran Cupola del Tempio Vaticano e de' danni di essa, e de' ristoramenti loro, divise in libri cinque. Padova: Stamperia del Seminario.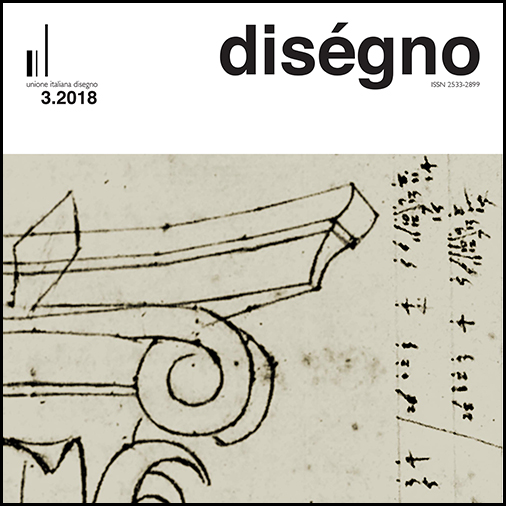 Downloads
How to Cite
[1]
"The Basilica of Saint Peter: Surveys as Models of Knowledge (XVII and XVIII Centuries)", diségno, vol. 1, no. 3, pp. 203–212, Dec. 2018.
License
This work is licensed under a Creative Commons Attribution 4.0 International License.