LOD for Architectural Heritage: BIM Modeling for the Solimene Factory
Keywords:
H-BIM, LOD, 3D Survey, Technologies, Parametric Modelling, Points Cloud, Interoperability
Abstract
The authors created a BIM model of a significant portion of the Solimene ceramic factory (Vietri, Salerno) based on an unstructured model obtained with phase-shift 3D laser scanning. The components, referred to standardized levels of development (LOD), are placed at the origin of a shared and interoperable workflow, suitable for comparing documents and models for design purposes and dissemination of architectural heritage.
References
Abbate, C., Spina, M., Zevi, A. (a cura di). (2010). Una guida all'architettura frugale. Guidonia: Iacobelli editore.
AEC (UK) BIM protocols.
Arayici, Y. (2009). Towards building information modelling for existing structures. In Structural Survey, vol. 26, n. 3, pp. 210-222.
Banfi, F. (2016). Building information modelling: A Novel Parametric Modeling Approach Based on 3D Surveys of Historic Architecture. In M. Ioannides et al. (eds). Digital Heritage. Progress in Cultural Heritage: Documentation, Preservation, and Protection. 6th International Conference, EuroMed 2016. Nicosia, Cyprus, October 31-November 5, 2016, Proceedings, Part I, pp. 116-127. Berlin: Springer.
Benedetti, B., Gaiani, M., Remondino, F. (2011). Modelli digitali 3D in archeologia: il caso di Pompei. Pisa: Scuola Normale Superiore.
Brujic, D. Ristic, M., Ainsworth, I. (2002). Measurement-based modification of NURBS surfaces. In Computer-Aided Design, n. 24, pp. 173-183.
Eastman, C. (2008). BIM Handbook: A Guide to Building Information Modeling for Owners, Managers, Designers, Engineers and Contractors. New York: John Wiley & Sons.
Gaiani, M., Benedetti, B., Apollonio, F.I. (2011). Teorie per rappresentare e comunicare i siti archeologici attraverso modelli critici. In SCIRES-IT: SCIentific RESearch and Information Technology, vol. 1, issue 2, pp. 33-70.
Guidi, G., Russo, M. , Beraldin, J-A. (2010). Acquisizione 3D e modellazione poligonale. Milano: McGraw-Hill.
Historic England (2017). BIM for Heritage: Developing a Historic Building Information Model. Swindon: Historic England.
Karmazyn, H. (2017). Dal modello sperimentale al modello matematico. Tesi di laurea in Ingegneria civile Edile Ambientale, relatore prof.ssa Adriana Rossi. Dipartimento DICDEA, Seconda Università di Napoli.
Migliari, R. (a cura di). (2004). Disegno come Modello. Roma: Edizioni Kappa.
Monteleone, C. (2013). Geometria e Astrazione nel Guggenheim Museum. Roma: Aracne.
Riley, T., Reed, P. (2007). Frank Lloyd Wright: 1867-1959. Milano: Mondadori Electa.
Rossi, A. (1995). Dal vaso all'architettura della ceramica. In E. Mandelli E. (a cura di). Il disegno luogo e memoria. Atti del convegno, pp. 360-367. Firenze: Alinea.
Rossi, A. (2017). The Façade of Paolo Soleri's Solimene Factory. In Nexus Network Journal. Vol. 19, 2, pp. 503–520.
Rossi, A., Palmieri, U. (2018). (In)tangibili caratteristiche: ripresentazioni integrate di un tompagno in terracotta. In: Salerno R. (a cura di). Rappresentazionemateriale/immateriale/Drawingsas(In)tangible. 40°Convegno Internazionale dei Docenti delle Discipline della Rappresentazione / XVCongresso UID, Milano, 13-15 settembre 2018, pp.1553-1560. Roma: Gangemi editore.
Rossi, A., Palmero, L., Palmieri, U. (2019). De la digitalización laser hacia el H-BIM: un caso de estudio / From laser scanning to H-BIM: A case study. In EGA Expresión Gráfica Arquitectónica, vol. 24, n. 36 (2019). In corso di stampa.
Tang, P., Huber, D., Akinci, B., Lipman R., Lytle, A. (2010). Automatic reconstruction of as-built building information models from laser-scanned point clouds: A review of related techniques. In Automation in Construction, n. 19, pp. 829-843.
UNI Norma Nazionale 11337-4:2017. Edilizia e opere di ingegneria civile - Gestione digitale dei processi informativi delle costruzioni.
Zampino, G. (a cura di) (1995). Gli spazi della ceramica. Catalogo della mostra. Vietri sul Mare 10 dicembre 1994 - 20 Gennaio 1995 Mare. Napoli: Grimaldi & C. Editori.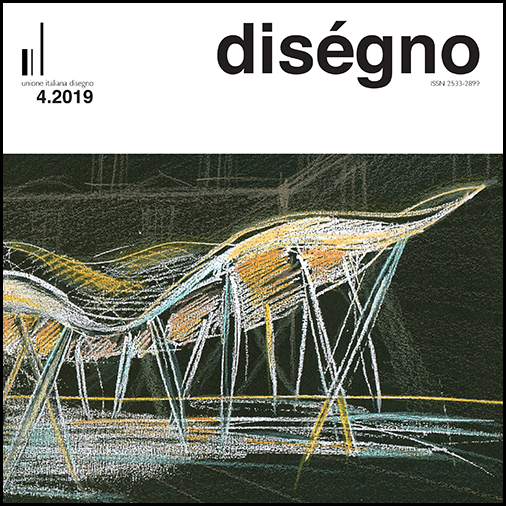 Downloads
How to Cite
[1]
A. . Rossi and U. . Palmieri, "LOD for Architectural Heritage: BIM Modeling for the Solimene Factory", diségno, vol. 1, no. 4, pp. 213–224, Jun. 2019.
Section
Practices and Models of Information and Management
License
This work is licensed under a Creative Commons Attribution 4.0 International License.