The Drawing of an Intuition. Interrupted Paths in the Design Practice of Vico Magistretti
Keywords:
Magistretti, unrealized projects, concept design, sketching, digital reconstructions
Abstract
The essay concerns the concept design of Milanese master Vico Magistretti, focusing on a limited series of sketches belonging to unrealized projects.
Within furniture design, the analysis and study of some seat sketches, for Cassina and Alias, interrupted in the early stages of design evolution, testify how drawing is an expressive necessity of prefiguring reality and becomes a means of communicating the essence of the object even before its artifactual translation.
The 3D translation hypotheses of the 'armchair roller shutter' sketches, geometrically traceable to ribbed surfaces systems supported by tubular metal elements, aim to reconstruct a possible imaginary, tracing the continuous variations that follow on from the initial prototype and creating a logical link with the birth of other iconic objects of the designer.
The use of digital is intended to return a plausible image of the artifact from fragments and notes that, in a guise of immediacy and personal obsession, synthesize not only ambitions and intuitions, but also technical problems and shortcomings in existing products.
The drawings thus become valuable tools of inquiry through which a creative project takes shape, which our technologies have a duty to redesign, reconstruct and communicate.
References
D'Amato, G. (2005). Storia del design. Pearson Italia: Milano-Torino.
Dardi, D., Pasca, V. (2019). Manuale di storia del design. Silvana Editoriale: Cinisello Balsamo.
De Fusco, R. (2002). Storia del design. Editori Laterza: Bari-Roma.
Falcinelli, R. (2004). Critica portatile al visual design. Da Gutemberg ai social Network. Einaudi: Torino.
Falcinelli, R. (2017). Cronorama. Come il colore ha cambiato il nostro sguardo. Einaudi: Torino.
Feraboli, M.T. (2011). Vico Magistretti. In I maestri del Design. Il Sole 24 ore. Milano: 24 Ore Cultura.
Ferretti, G. (1982). L'innovazione intelligente e funzionale. In Home, pp. 89-93.
Ghigiotti, G., (1992). La regola e l'eccezione. In AREA, n. 11, pp. 58-67.
Koivu, A., Banchi, M. (2020). Vico Magistretti: storie di oggetti. Triest: Zurich.
Irace, F., Pasca, V. (1999). Vico Magistretti architetto e designer. Mondadori Electa: Milano.
Mondadori, B. (2005). Maestri del design: Castiglioni, Magistretti, Mangiarotti, Mendini, Sottsass. Mondadori: Milano.
Pasca, V. (1991). Vico Magistretti. L'eleganza della ragione. Idea Books: Milano.
Tassinari, A. (1973). Incontro con Vico Magistretti. In Cinquemattoni, n. 4, pp. 44-48.
Veneziano, G. (2009). Il segno dei design. Electa: Milano.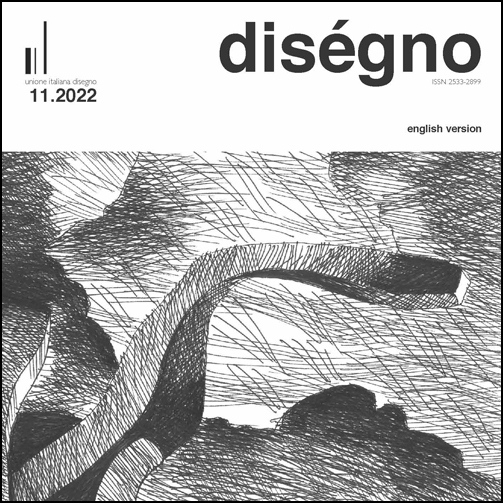 Downloads
How to Cite
[1]
G. Liva, "The Drawing of an Intuition. Interrupted Paths in the Design Practice of Vico Magistretti", diségno, no. 11, pp. 43–54, Dec. 2022.
Section
Masters and Practices
License
Copyright (c) 2022 diségno
This work is licensed under a Creative Commons Attribution 4.0 International License.