Contemporary Visionaries. Environment Concept Art's Imaginative Realism and Evocative Power
Keywords:
concept art, imaginative realism, world-building, entertainment industry, visionary aesthetics
Abstract
Imagining and creating new worlds has always been one of the deepest desires of mankind. Today as yesterday, the insatiable hunger of the creative genius characterizes the poietic activity of certain artists and architects who see the world in an imaginative way in order to give birth to original pieces of reality (or unreality). Reason and imagination freely interact in the artistic mind, decomposing and recomposing fragments of architectures, urban and natural landscapes to build new visions. The history of art is full of examples of visionary artists whose production was mainly devoted to the visionary representation of places such as the Baroque scenic designs by the Galli da Bibiena dynasty, the imaginary views by Piranesi and the masters of capriccio as well as the futuristic visions of Sant'Elia and Chernikhov. Similar experimentations can be found today in the work of environment concept artists operating in the entertainment industry: these artists create depictions of fictional universes characterized by an extraordinary evocative power, in which reality and imagination coexist. These contemporary visionaries can see beyond the visible, drawing from memory and fantasy, providing coherent and incredibly realistic pictures of imaginary places, to the point that they appear possible in the eyes of the spectator.
References
Ansaldi, B. (2020). World-building e concept art: inventare e rappresentare mondi immaginari. In E. Cicalò, I. Trizio (a cura di). Linguaggi Grafici. Illustrazione. Alghero: PUBLICA.
Barzan, A. (2015). Understanding the Sublime Architecture of Bloodborne. (accessed on August 2021, 31).
Chernikhov, Y. (1933). 101 Architectural Fantasies. Leningrado: s.e.
De Rosa, A., Sgrosso, A., Giordano, A. (2002). La Geometria nell'Immagine. Storia dei metodi di rappresentazione. Dal secolo dei Lumi all'epoca attuale. Vol. III. Torino: UTET.
Faini, E. (2016). Ho sempre disegnato, dacché ne ho memoria, per creare mondi fantastici. <https://www.rill.it/node/756> (accessed on August 2021, 9).
Focillon, H. (2006). Estetica dei visionari (trad. di Giuseppe Guglielmi). Milano: Abscondita.
Ghez, D. (2015). They Drew as They Pleased: The Hidden Art of Disney's Golden Age: The 1930s, with an introduction by P. Docter. Chronicle Books.
Gurney, J. (2009). Imaginative Realism. How to paint what doesn't exist. Kansas City: Andrew McMeel Publishing.
Hartley, K. (1994). The Romantic Spirit in German Art, 1790-1990. Londra: Thames & Hudson.
Nelson, M. (2019). Fantasy World-Building: A Guide to Developing Mythic Worlds and Legendary Creatures. Mineola (NY): Dover Publications.
Pantouvaki, S. (2010). Visualising Theatre: Scenography from Concept to Design to Realisation. In M. Raesch (Ed.). Mapping Minds. Oxford, UK: LuodoInter-Disciplinary Press.
Sant'Elia, A. (1914). L'architettura futurista. Manifesto. Milano: Stab. Tip. Taveggia.
Steil, L. (Ed.). (2013). The Architectural Capriccio: Memory, Fantasy and Invention. Londra: Routledge.
Woods, L. (1993). War and Architecture. New York: Princeton Architectural Press.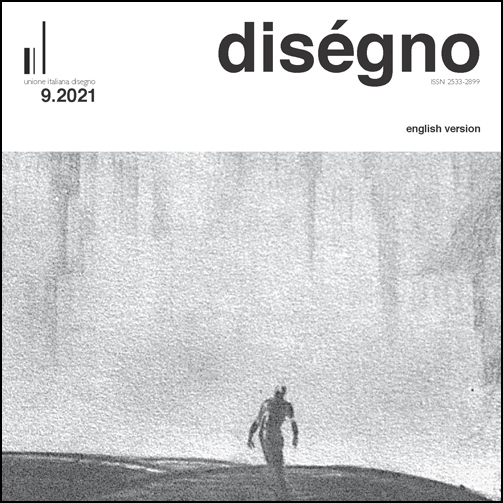 Downloads
How to Cite
[1]
B. Ansaldi, "Contemporary Visionaries. Environment Concept Art's Imaginative Realism and Evocative Power", diségno, no. 9, pp. 25–36, Dec. 2021.
License
Copyright (c) 2021 diségno
This work is licensed under a Creative Commons Attribution 4.0 International License.