The Drawing of Measurable Space and of Calculable Space
Abstract
In the third century BC, it happened that Eratosthenes of Cyrene (a city located in today's Libya) wanted to measure the radius of the earth, and he tried to do so using the instruments that were available to him at the time. The experiment gave an incredible result, obtaining a measurement that differs only 5% from the value currently known. The merit of Eratosthenes was to make a measurement with a good degree of accuracy using only one instrument: the gnomon, which is a stick planted vertically in perfectly flat, level ground [1]. (read more)
References
AA.VV. (1993). Il disegno di architettura come misura della qualità. Atti del Quinto Seminario di Primavera. Palermo: Flaccovio editore.
Alberti, L.B. (1966). De re aedificatoria. Trad. di G. Orlandi con note di P. Portoghesi. Milano: Edizioni il Polifilo.
Bairati, C. (1952). La simmetria dinamica. Milano: Tamburini.
Barbaro, D. (1567). Vitruvius: I dieci libri dell'architettura di M. Vitruvio. Venezia: Appresso Francesco de' Franceschi, Senese. <https://www.bibliothek-oechslin.org/library/online/vitruviana/barbaro-1567-1> (accessed 2020, December 5).
Bruno, G. (2002). De l'infinito, universo e mondi. In G. Bruno. Opere italiane. Torino: UTET.
Cartesio, R. (1644). Principia Philosophiae. Amstelodami: Apud Ludovicum Elzevirium: <https://books.google.it/s?id=lHpbAAAAQAAJ&printsec=frontcover&hl=it#v=onepage&q&f=false> (accessed 2020, December 5).
Choisy, A. (1873). L'Art de bâtir chez les Romains par Auguste Choisy, ancien élève de l'Ecole polytechnique, ingénieur des Ponts et Chaussées. Paris: Ducher.
Docci, M., Maestri, D. (1984). Il rilevamento architettonico. Storia, metodi e disegno. Bari: Laterza.
Ghyka, M. (1938). Essai sur le rythme. Paris: Gallimard.
Koyré, A. (1988). Dal mondo chiuso all'universo infinito. Milano: Feltrinelli [1a ed. Baltimora, 1957].
Le Corbusier. (1973). Verso un'architettura. Milano: Longanesi.
Newton, I. (1965). Principi matematici della filosofia naturale. Torino: UTET [ed. orig. Philosophiae naturalis principia mathematica].
Serres, M. (1994). Le origini della geometria. Milano: Feltrinelli 1994 [1a ed. Parigi, 1993].
Lucrezio Caro, T. De rerum natura. <http://www.audacter.it/Giussani.2.pdf> (accessed 2020, December 2020).
Vasari, G. (1962). Le vite de' più eccellenti pittori scultori e architettori. Nuova edizione critica. Vita di Filippo Brunelleschi, vol. II. Milano: edizioni per il Club del libro.
Vitruvio Pollione, M. De Architectura.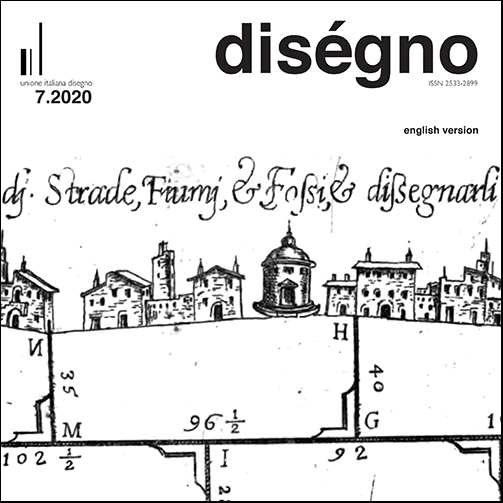 Downloads
How to Cite
[1]
F. Fatta, "The Drawing of Measurable Space and of Calculable Space", diségno, no. 7, pp. 7–17, Dec. 2020.
License
Copyright (c) 2020 diségno
This work is licensed under a Creative Commons Attribution 4.0 International License.