From the Historic City to the Historicized City: Reflections on Several Studies on Urban Form Conducted in the Last Century
Abstract
The following reflections refer to a few studies on the urban form of Turin whose research methodology was based on the identification of a hierarchy of values characterizing the investigated reality and on the definition of a graphic language suitable for the representation/communication of the results achieved.
References
AA. VV. (1968). Forma urbana e architettura nella Torino Barocca, Torino: UTET.
AA.VV. (1994). Idee e città incontri di urbanistica. Parma: Finhaus s.r.l.
AA. VV. (1999). Borgo Po, 1999. Un'esperienza di rilievo della trasformazione.
Torino: Editrice Levrotto e Bella.
Baculo Giusti, A. (1996). Napoli al 4000. Napoli: Electa.
Bizzotto, R., Mezzetti, C., Sardo N. (eds.). (2009). Rappresentazione dalla
formazione alla professione. Roma: Edizioni Kappa.
Boido, C. (2010). Processi conoscitivi per la città e supporti di base dati
multirelazionali. In Coppo, Boido 2010, pp. 188-194.
Cagnardi, A. (1994). Il Piano Regolatore di Torino. In AA.VV. 1994, pp. 93-106.
Cavallari Murat, A. (1968a) Evoluzione della cartografia urbana ed
extraurbana. In AA.VV. 1968, pp. 97-141.
Cavallari Murat, A. (1968b). Simboli nelle mappe congetturali di rilievo
nei tessuti cittadini. In AA.VV. 1968, pp. 115-141.
Cavallari Murat, A. (1968c). Problemi scientifici del disegno descrittivo.
In AA.VV. 1968, pp. 97-99.
Coppo, D. (1994). Le problematiche di rappresentazione nei piani di
recupero dei centri storici. L'esempio di Torino. In AA.VV. 1994, pp.
-122.
Coppo, D. (2010). Iconografia e simbologia del linguaggio grafico nella
rappresentazione della città. In Coppo, Boido 2010, pp. 30-46.
Coppo, D., Boido, C. (ed.). (2010). Rilievo urbano. Conoscenza e rappresentazione
della città consolidata. Firenze: Alinea.
Coppo, D., Osello, A. (ed.). (2007). Il disegno di luoghi e mercati in Piemonte.
Torino: Umberto Allemandi.
Macchi Cassia, C. (1994). La qualità del progetto urbanistico. In AA.VV.
, pp. 65-86.
Novello Massai, G. (2002). Verso un'evoluzione della rappresentazione.
Media e non solo strumenti del rilievo urbano e territoriale per luoghi in
trasformazione. In R. De Rubertis (ed.). La città rimossa. Roma: Officina
Edizioni, pp. 205-215.
Novello Massai, G., Marotta A. (2015). Disegno&Città. In S. Bertocci, M.
Bini (a cura di). Disegno&Città. Cultura Arte Scienza Informazione. Atti del
° Convegno internazionale dei docenti della Rappresentazione. Torino,
-19 settembre 2015. Roma: Gangemi Editore, pp. 23-24.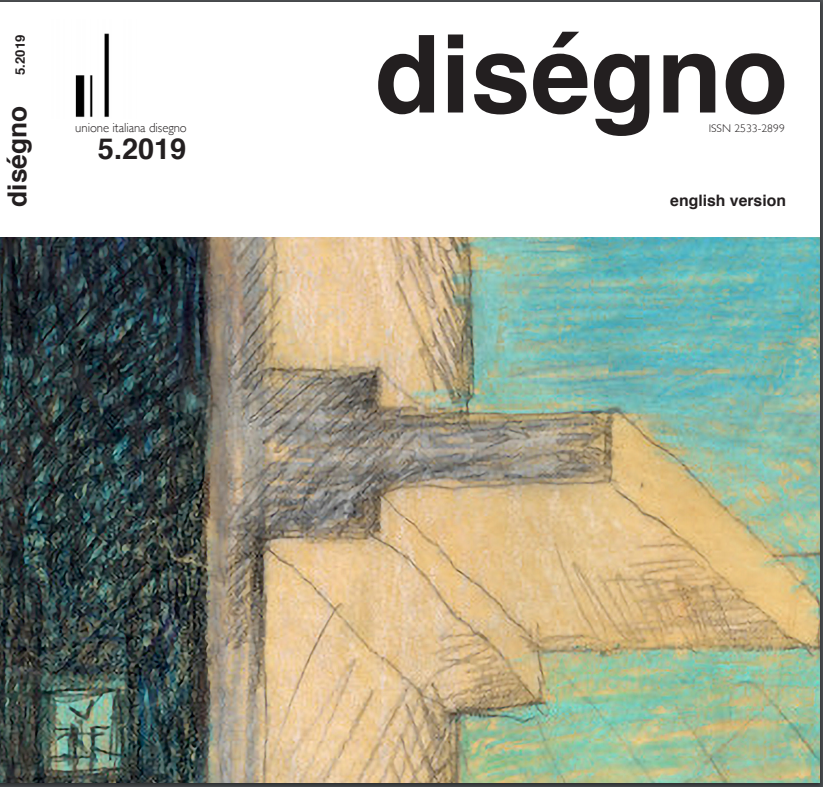 How to Cite
[1]
D. Coppo, "From the Historic City to the Historicized City: Reflections on Several Studies on Urban Form Conducted in the Last Century", diségno, vol. 1, no. 5, p. pp.105.116, Dec. 2019.
This work is licensed under a Creative Commons Attribution 4.0 International License.