Sol LeWitt. The Conceptuality of Drawing
Abstract
Two significant faxes can be found in the archive of the 'Pietro Vannucci' Academy of Fine Arts in Perugia: they are worthy of note both because they are signed by two well-known personalities (Sol LeWitt and Bruno Corà) and because they markedly represent a genuine manifesto which is theoretically capable of healing the fracture that traditionally separates architecture and art history in matters of drawing intended as a form of thought [...]
References
Belardi, P. (1996). Disegno architettonico e remote control. In Belardi, P. Paroledisegni. Raccolta di relazioni, memorie e interventi sul disegno. Perugia: Università degli Studi di Perugia, pp. 69-75.

Belardi, P. (1997). Disegno architettonico e remote control nei carteggi di Raffaello, Antonio da Sangallo il Giovane e Galeazzo Alessi. In Cigola, M. & Fiorucci, T. (eds.). Il disegno di progetto dalle origini al XVIII secolo. Proceedings of International Study Meeting, Rome, 1993, April 22-24. Roma: Gangemi editore, pp. 47-50.

Belardi, P. (2011). La Scienza del Disegno. Dai poliedri stellati di Paolo Uccello al remote control di Galeazzo Alessi. In Boco, F., Ponti, A.C. (ed.). L'Accademia riflette sulla sua storia. Perugia e le origini dell'Accademia del Disegno. Secoli XVI e XVII. Proceedings of Study Meeting, Perugia, 2011, May 19. Perugia: Futura, pp. 115-130.

Corà, B. & Panzera, M. (eds.). (1998). Sol LeWitt in Italia. Firenze: Maschietto & Musolino.

LeWitt, S. (1967). Paragraphs on Conceptual Art. In Artforum, No. 10, pp. 79-83.

Purini, F. (1990). Il disegno è l'idea. In XY, dimensioni del disegno, No. 13, pp. 24-36.

Zevi, A. (ed.). (1994). Sol LeWitt: testi critici. Roma: Libri di AEIOU.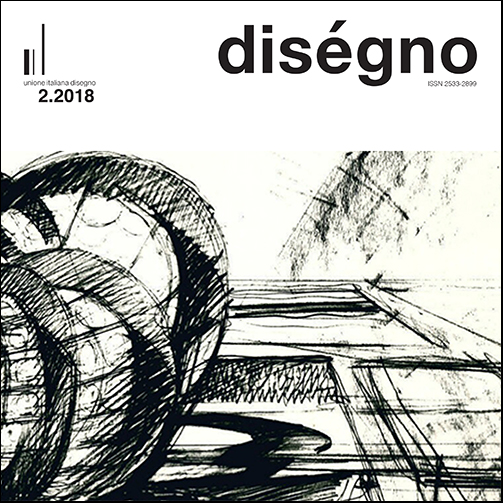 How to Cite
[1]
P. Belardi, "Sol LeWitt. The Conceptuality of Drawing", diségno, no. 2, pp. 017-018, Jun. 2018.

This work is licensed under a Creative Commons Attribution-NonCommercial-NoDerivatives 4.0 International License.